Welcome to the Tax Team! How Can We Help You?
Middlebury, VT Accounting & Tax Services Firm
Are you looking for an accountant to handle your Federal & State tax return?
Are you a small business owner in need of bookkeeping & tax services?
Are you local to Middlebury, VT and Addison County?
If you answered yes to any of these questions, welcome to the Tax Team—and say goodbye to your accountant search.
Call your Tax Team at (802) 388-6603 for an appointment!
Please take a moment to review all our VT accounting & tax services, then contact the Tax Team with questions or to make an appointment.
Your Resource for VT Accounting, Bookkeeping & Tax Services
Federal & State tax preparation, returns & filings for both US & Overseas filers
Tax planning, forecasting & strategizing
Complete bookkeeping services, including budgeting & forecasting
QuickBooks setup, management & training
Visit our VT accounting & tax services page for more detail.
The Middlebury Tax Team is Proud to Serve You
The benefit of our "Team" of tax professionals is that we are able to work together on the ever-changing tax law frontier to better serve you. We work with all types of clients, including: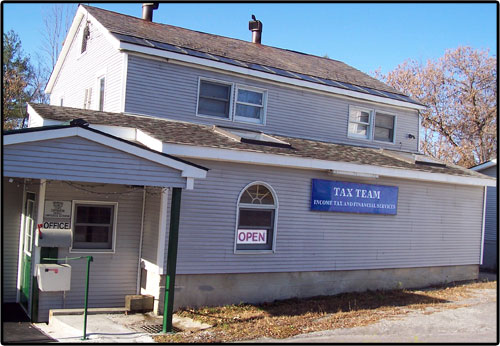 Individuals
Families
Estates
Trusts
Small businesses
C and S Corporations
LLCs
Partnerships
Sole Proprietors
Nonprofits
Late filers
Non filers
For those who need IRS representation and/or have State filing problems, our office has Enrolled Agents ready to turn issues into solutions. (For more info, visit our Enrolled Agent page.)
We Provide More than Local Tax & Accounting Expertise
Beyond our services, we also aim to deliver:
Peace of mind
Expert know-how
Friendly, personal service
Our mission is to help you get the most refund or pay the least tax, take the pressure off your shoulders, and put a smile on your face. If you're looking for personal or business financial assistance in Middlebury, VT, we would like to speak with you.
Contact your VT Tax Team to ask a question, make an appointment, or get more information.